Make sure you have a good Wi-Fi connection.
Download the Zello App onto your cell phone.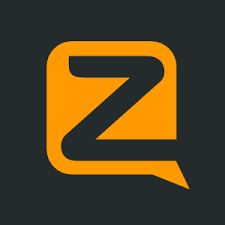 Make sure your cell phone Bluetooth is on and place the BbRadio in pairing mode.
To place your BbRadio in pairing mode, press and hold the power button until you see the light flashing blue and red on your BbRadio.
Once you have successfully paired your BbRadio to your phone, go to the Zello App on your phone.
In the Zello App, go to your settings options.
Select the Push to Talk Button, then select the Wireless Zello button.
Make the Wireless Zello button ON.
When you slide this feature on, press your PTT button on the BbRadio once.
You will see your BbRadio number under discovered devices.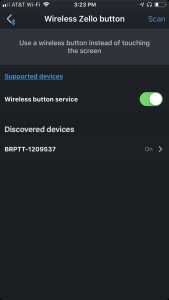 Once this is set up, you can talk with anyone you have set up on Zello using your BbRadio.
How to use with your Phone as a Hands-Free Headset
You can pair your BbRadio to an Advance Unit for open, real time communication.
Turn the Advance Unit on
Press and hold the Power button on the BbRadio until it goes into pairing mode. The LED light will flash red/blue.
Hold the Advance Unit's CH1 on your Advance Unit until the unit flashed red.
Press the Advance Unit's CH1 button once and wait for them to pair.
The lights on the Advance Unit and BbRadio will turn blue once paired.
IMPORTANT: The communication distance between an Advance Unit and BbRadio is only 30-40 meters.
When you turn on your BbRadio, a color light will come on indicating your battery life. See below.
Blue Light: Full Charge
Purple Light: Mid Charge
Red Light: Low Charge
When charging, a red light will be displayed until full charge is reached. Once the red light turns off, your BbRadio is at full charge.
While off, press and hold the PTT button, Power button and (-) Volume button at the same time on your BbRadio for 3 seconds. ON.