This is our new one piece set of our Standard 3.0 unit. You would purchase a single unit if:
One of your Standard Units become damaged or lost
Add a fourth person to your current 3-way communication set
** Our Standard Units cannot connect to our Advance Units.
To understand how our new 3.0 units connect for a 2, 3 or 4 way communication, below is a helpful connection chart.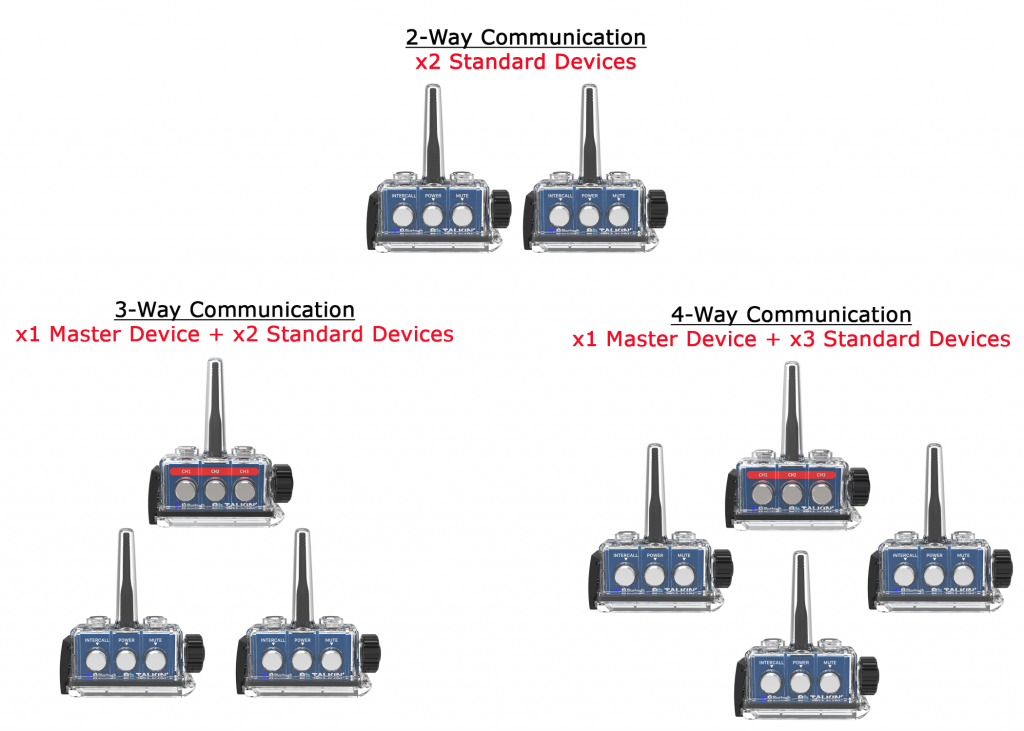 The Standard Units have built in long range Bluetooth for real time communication.  You do not need your cell phone or wireless network to connect.  Our units connect to one another using their own built in Bluetooth. Our new Standard units allow for real time talk with exceptional voice clarity.  The range on these new units is improved from previous model units. Each unit has it's own volume control and easy mute function.
The Standard Unit can also be used as a general Bluetooth headset being able to pair to your smart phone to take phone calls, listen to music and record live videos
You need to select headsets to plug into your Standard Units.  The headsets connect by a male 3.5mm jack and have the microphone and speaker.  The headset you choose will be according to where and how you wish to use your units for communication.  We offer popular packages online that come complete with headsets used frequently by customers.
Our headsets have an exclusive design which plug into the Standard Unit and screws into it's casing. This exclusive design keeps the Standard Unit waterproof and protected, and extremely durable.
We offer 100% waterproof, weatherproof or non-waterproof headsets to go with your Standard Units.  You can also use any other brand headset as long as it plugs in by a 3.5mm jack.  If you use another brand headset, you will need our multi-connector so that the unit stays protected in the waterproof case.
For complete instructions, visit our instructions page.
WARRANTY
One year limited warranty from date of purchase.  Please follow our instructions carefully as you are using electronics on the water.  It is important to always inspect your equipment after each use to make sure all seals are secure.  If you are using during extreme sports and falls are taken with the equipment on, make sure your case did not incur any cracks or breaks.  Water damage is not covered under warranty.